GOTM Gallery - OLD
Much like a CSA membership, the Granola of the Month Club adds an element of surprise to your life while taking away the potentially stressful decision of where to source your breakfast. Members of the Granola of the Month Club receive one new special blend each month, revealed at the beginning of that month and shipped right around the fifteenth. The limited edition blends highlight fruits, nuts, and grains of the season, sourced from the best farms and producers in Wisconsin and California.
Memberships are available for three-, six-, or twelve-month commitments, and gift memberships are also available.
Join the club.
August 2016: Buckwheat Nectarine
This blend is especially crunchy thanks to the whole buckwheat groats that star in this granola. They're healthy, full of protein and fiber, and they're not wheat.

The groats, which are the hulled seeds of the buckwheat plant, are a nutty complement to big slices of dried California nectarines and cashews.

Ingredients: oats, buckwheat, cashews, dried nectarines, maple syrup, canola oil, salt.
July 2016: Cherry Hibiscus
This month's special blend takes inspiration from the summertime where I grew up in Door County, Wisconsin, and summertime here in Southern California.

Right now, it's tart cherry season in Wisconsin. The stars of this blend are the dried tart Montmorency cherries shipped in from Door County. Matching their tartness are dried hibiscus flowers, like those you'd taste in a tall glass of jamaica, which give the granola the slightest pink hue. We'll call it rose gold—it's all the rage right now.
Ingredients: oats, dried tart cherries (cherries, sugar), hibiscus maple syrup (maple syrup, hibiscus flowers), almonds, amaranth, canola oil, hibiscus flowers, salt
June 2016: Ginger Mulberry
Mulberries are elegant looking, sweet and mild in flavor, and—it turns out—very good for us. They're packed with antioxidants, fiber, iron, and calcium. This time of year, there's a bit of a frenzy at the markets for mulberries since their season is short.
But lucky for us, they can be dried. In the June granola, crystalized ginger—another super food—compliments the mild flavor of the dried mulberries, and pepitas and almonds match their crunch.
Ingredients: oats, pepitas, maple syrup, crystalized ginger (ginger, sugar), almonds, dried mulberries, canola oil, salt
May 2016: White Chocolate Pistachio
I recently passed through Oregon and Washington, perhaps the greenest places I have ever seen. And in the background of all this green, green, green sat at Mt. Hood, snow-covered and stunningly white. And that's all I can say for the slightly indulgent May blend. Pistachios, lime zest, white chocolate—I hope the result is more delicious and easier to deal with than a late spring snowstorm.
Ingredients: oats, pistachios, maple syrup, white chocolate (sugar, cocoa butter, milk powder, nonfat dry milk, soy lecithin, vanilla extract), almonds, canola oil, salt, lime zest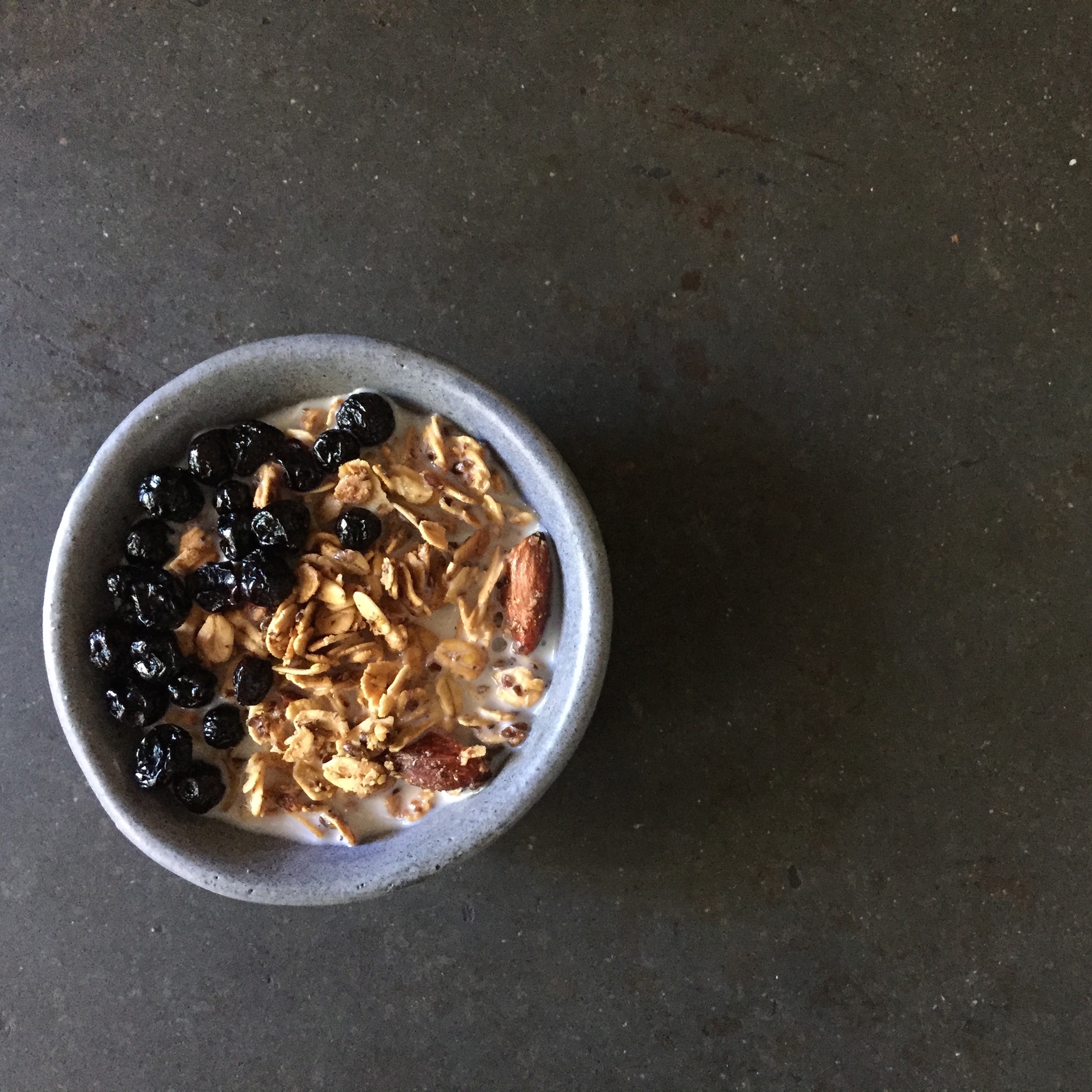 April 2016: Blueberry Flax
We made the April Blend with a special group of granola eaters in mind: new moms! But while oats, flax seeds, and blueberries are great for those nursing, this nutrient-rich blend is also good for just about anyone. Happy spring!
Ingredients: oats, maple syrup, almonds, dried blueberries, flax seeds, canola oil, salt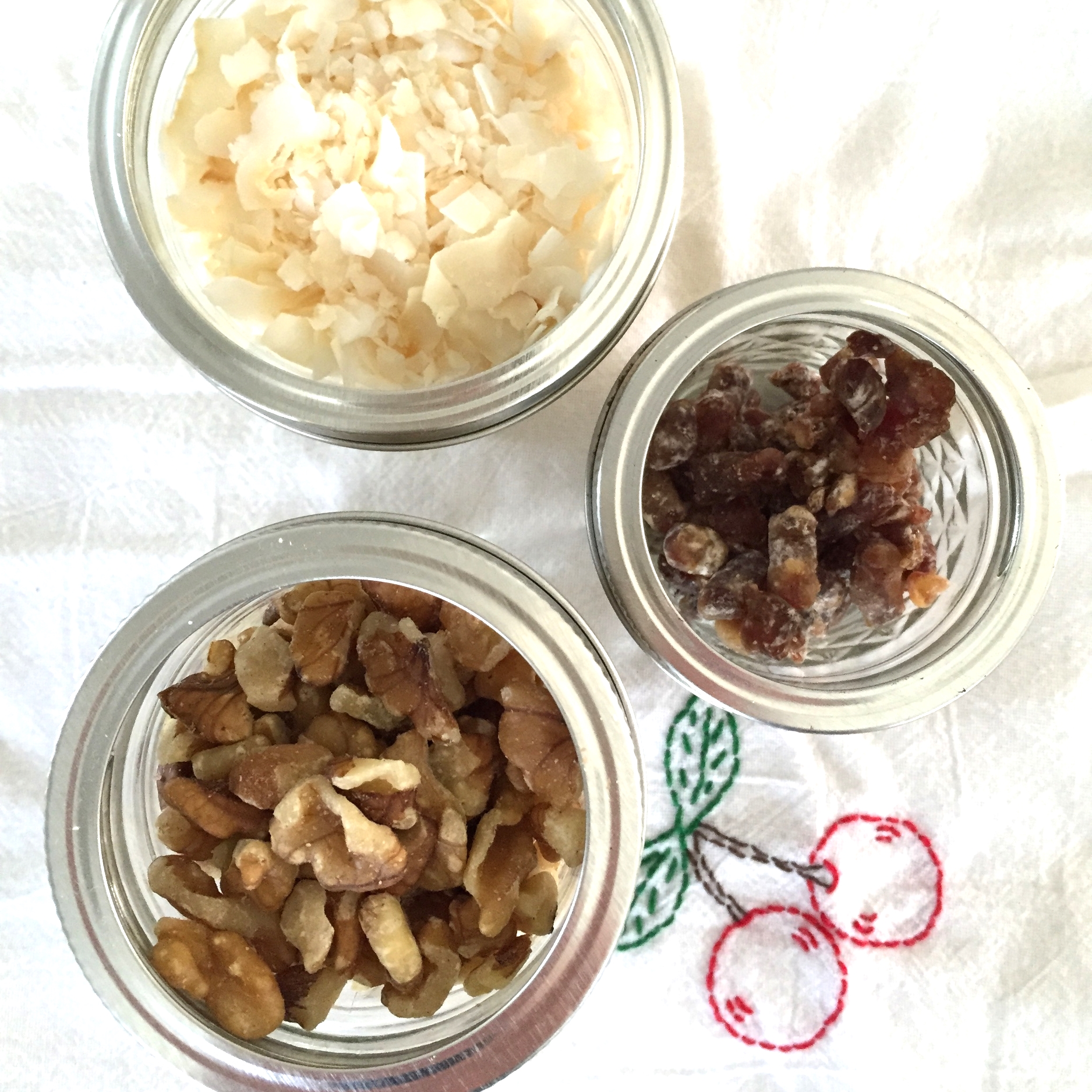 March 2016: Hedgehogs
My Grandmother Bernice was a serious baker, as many grandmothers are. She kept her baking supplies in a special cupboard with a lock on it so her nine kids wouldn't eat the dried fruits, nuts, and chocolate chips before she could use them. Her pies and breads were legendary, and you can find her rhubarb torte recipe in Lucky Peach, where I got to share it in honor of Mother's Day last year.
One of my favorite things my grandmother made was her hedgehog cookies. There are a lot of variations on these old-timey treats out there, but my granny's was simple, and that was the beauty in it. The only ingredients: dates, walnuts, coconut, brown sugar, and eggs. She rolled them into cute little shapes and coated them with the coconut flakes so they'd look like the equally cute animal. The March Blend of Daughter's Granola doesn't look like hedgehogs, but it has almost the exact same ingredient list as the cookies, subbing in maple syrup for the brown sugar and a bit of oil for the eggs.
Ingredients: oats, walnuts, dates, coconut flakes, maple syrup, canola oil, salt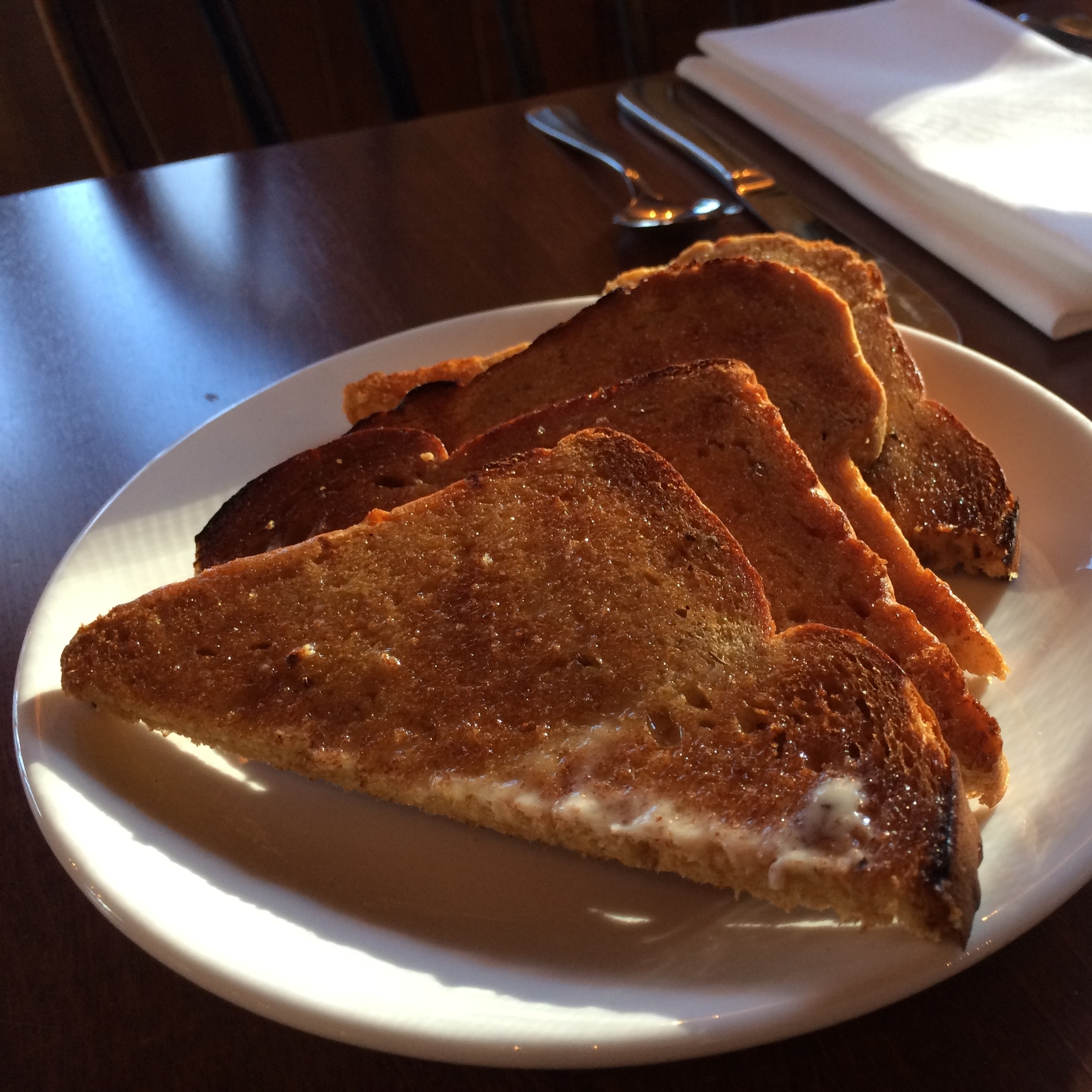 February 2016: Swedish Limpa
I'm not Swedish, but the part of Wisconsin I grew up in, Door County, is pretty Swedish, as are a lot of the regional food traditions. One of those is Swedish limpa bread. Limpa is a light rye bread sweetened with orange peel and molasses and punctuated with caraway and (or) anise seeds. Nothing else tastes like limpa, and when I eat a piece, I am transported back to where I'm from.

To appeal to the local crowd, my family's restaurant, The White Gull Inn, offers white, whole wheat, or Swedish limpa toast with breakfast. Inspired by a recent visit home, I set out to recreate the unique mash-up of flavors in limpa for the Granola of the Month. The February blend includes rye flakes as well as oats and is a deep caramel color from the molasses sweetening it. And while you might not see them, you will taste the caraway and anise seeds, and orange peel, that unmistakably represent limpa bread.
Ingredients: oats, rye flakes, molasses, maple syrup, canola oil, caraway seeds, anise, orange zest, salt
January 2016: Lemon Poppy Seed
Although it takes its inspiration from a totally indulgent dessert, the January Blend is quite healthy, I promise! The idea for a poppy seed blend came from the Poppy Seed Torte at my parents' restaurant, The White Gull Inn in Fish Creek, Wisconsin, and poppy seed desserts with lemon across the land. The granola version keeps the unmistakable, celebratory taste of poppy seeds, and all of their health benefits (calcium, potassium, magnesium, iron!), without all of the cream cheese frosting. Meyer lemon zest brightens up this winter blend.
Ingredients: oats, orange blossom honey, poppy seeds, coconut, canola oil, Meyer lemon zest, salt
December 2015: Chocolate Hazelnut
Inspired by chocolate-hazelnut candies wrapped in gold foil, as well as the wintery, special-occasion breakfast of toast spread with Nutella, this month's blend is a bit of an indulgence. But not too much of one. Hazelnuts, coconut, and dark chocolate make the December blend rich. But as it is only sweetened with pure maple syrup, the chocolate hazelnut blend can still be considered a whole-grain, healthy breakfast.
Ingredients: oats, hazelnuts, maple syrup, coconut, semisweet chocolate, canola oil, salt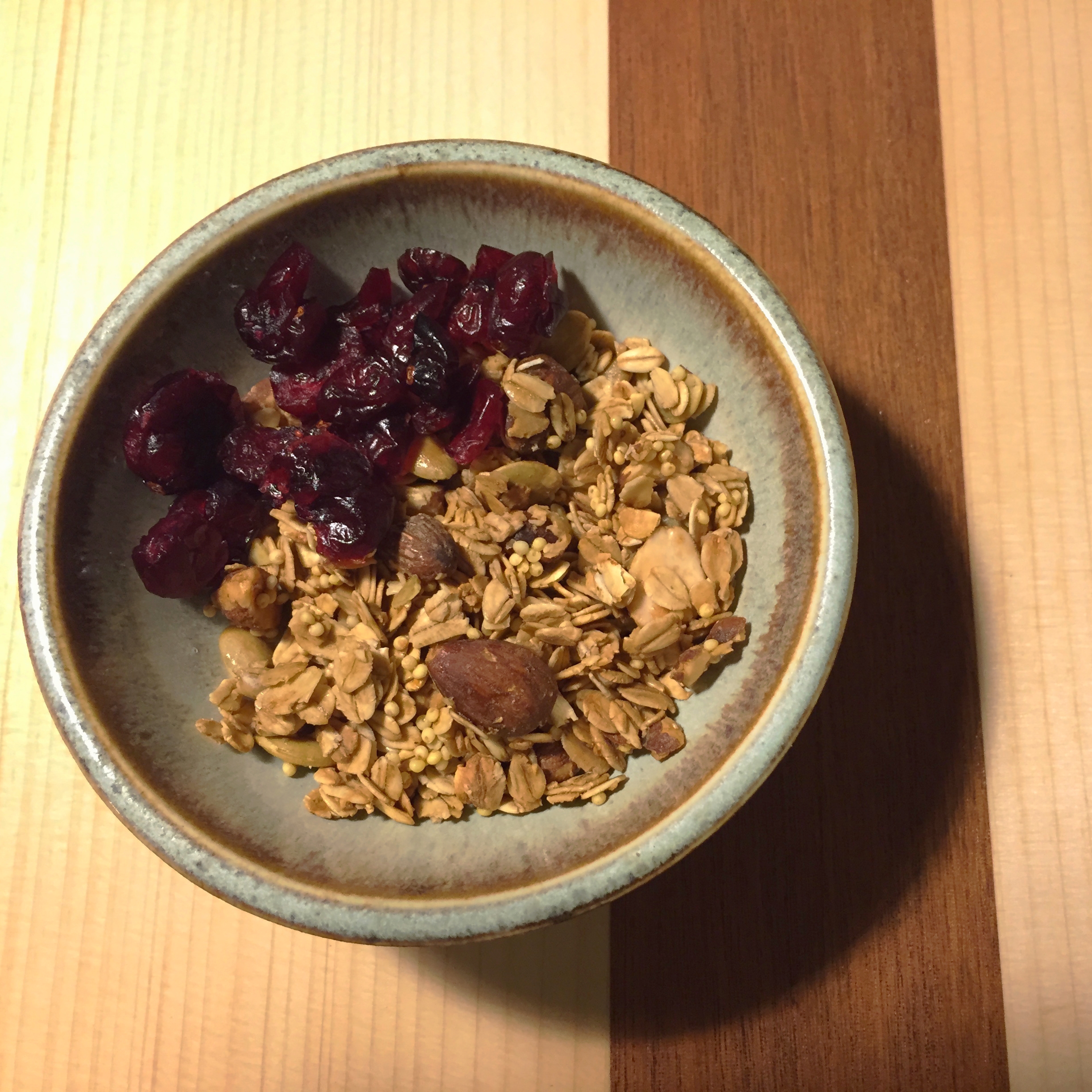 November 2015: Cranberry Vanilla
At Thanksgiving, my mom often prepares not one type of homemade cranberry sauce, not two, but three or four. We're from Wisconsin, land of beautiful fresh cranberries in the fall (sorry, Massachusetts), and they become the centerpiece of our holiday tables. This month, the special blend is inspired by my favorite of my mom's cranberry sauces, one she makes with vanilla.
Ingredients: oats, maple syrup, dried cranberries (cranberries, beet sugar, sunflower oil), millet, pepitas, almonds, canola oil, vanilla extract, salt
October 2015: Oatmeal Raisin
The great thing about cinnamon is that it makes everything taste cozy and homey, no matter if you're gathered 'round the harvest table in down vests or sleeveless shirts. The October special blend follows the profile of one of the coziest treats: the oatmeal raisin cookie.

Oats and oat bran make up the base of this blend, and with a little flax in there too, it's probably a bit healthier than the average cookie. Then there's cinnamon, walnuts, and this year's crop of California raisins, still packed with flavor because they're fresh in from being dried.
Ingredients: oats, walnuts, maple syrup, raisins, oat bran, flax, canola oil, salt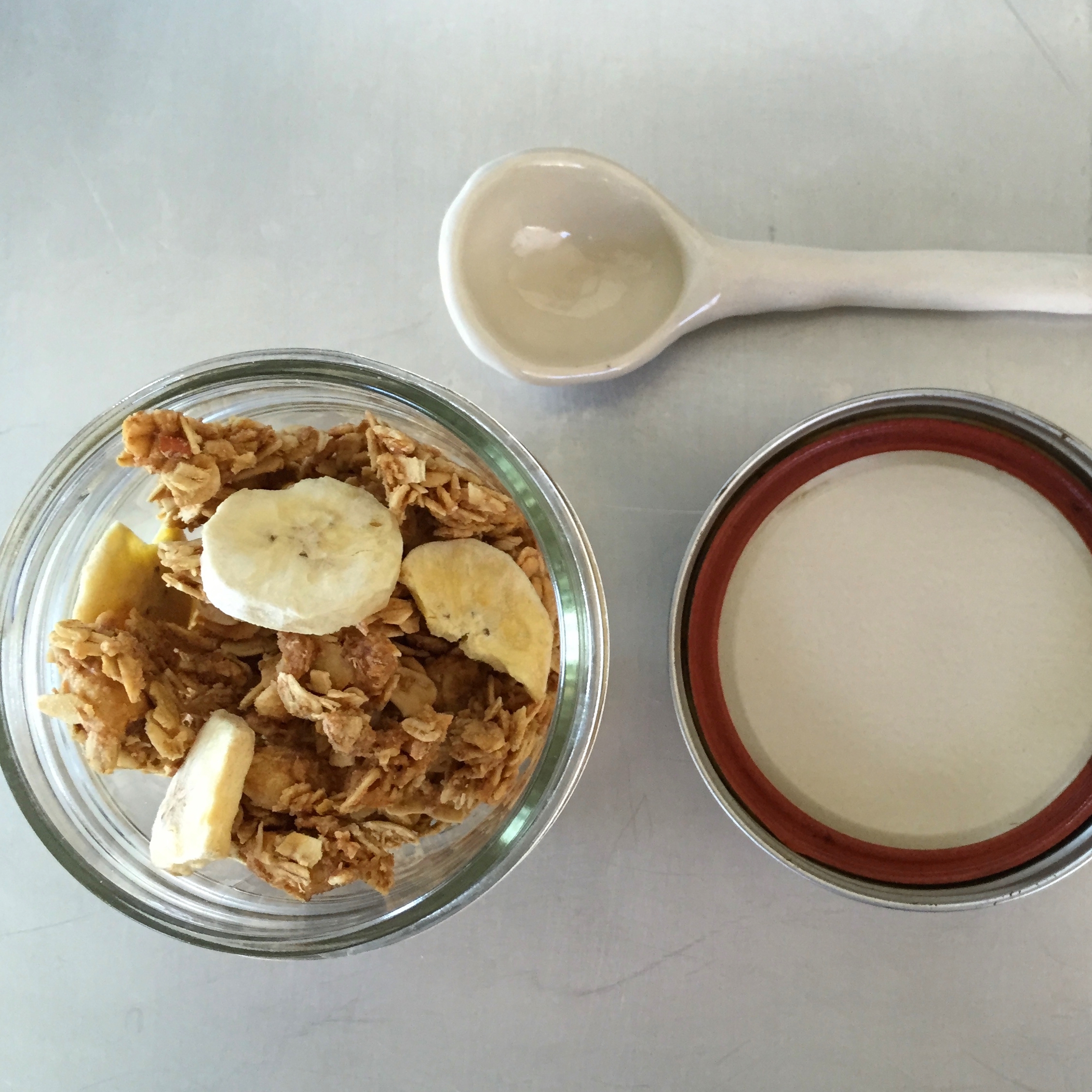 September 2015: Peanut Butter Banana
The peanut butter and banana blend uses natural peanut butter as the base, with oats and wheat germ standing in for hearty, whole-grain bread. Then more peanuts, and finally, freeze-dried bananas, which have no other ingredients besides bananas and which come to life again in a very exciting way once they hit milk or yogurt.

Ingredients: oats, peanut butter, peanuts, wheat germ, maple syrup, brown sugar, freeze-dried bananas
August 2015: Black Sesame Apricot
If you're local to Orange County, California, you may have had Daughter's Granola on the brunch menu at Taco María. This month's special blend is inspired by one of the combinations we did with Taco María: black sesame granola with apricots. Black sesame seeds, if haven't tried them yet, are another variety similar in taste to their beige relatives, but perhaps a bit toastier. They also are an excellent source of calcium!
Ingredients: oats, maple syrup, dried apricots (apricots, sulfur dioxide), black sesame seeds, coconut flakes, almonds, canola oil, salt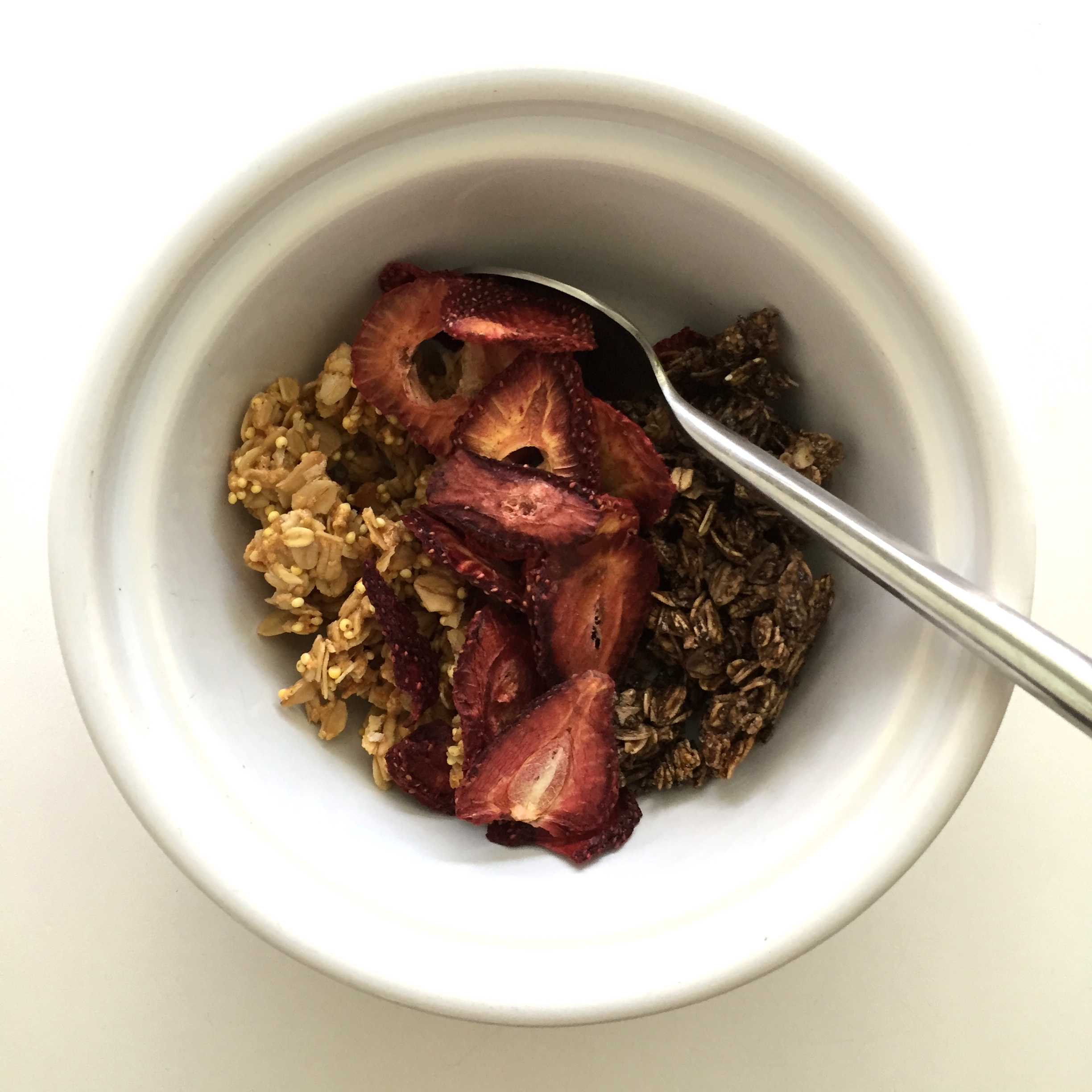 July 2015: Neapolitan
The result of a collaboration with Weekend Babes, this blend was inspired by a classic ice cream combo: Neapolitan. Just like the tricolor ice cream, the granola comprises three flavors: chocolate, vanilla, and strawberry. The chocolate takes the form of a rich cocoa granola, made with natural-process cocoa and old-fashioned malted milk from King Arthur's Flour. The vanilla is a blonde, lighter granola, layered on top of the chocolate. And the strawberry flavor comes from California strawberries, sun-dried with no added preservatives. Eat this granola poolside, while camping, or on top of ice cream!
Ingredients: chocolate: oats, malted milk (barley malt, wheat, milk, baking soda, salt), maple syrup, cocoa powder, canola oil, salt; vanilla: oats, millet, maple syrup, canola oil, vanilla extract, salt; dried strawberries
June 2015: Sweet Cherry Black Pepper
This combo is another one inspired by a pie. Growing up on tart cherry pies, I made my first sweet cherry pie (as seen in the photo) upon moving to California. The sweet bing cherries were perfect, but I still wanted a little zing in there. That's where fresh-ground black pepper came in! It worked in a pie, and here, it heats up the otherwise sweet, almond-based blend. The bing cherries are sun-dried on the California farm where they were grown, and although they're a little darker in color than the fresh fruit, it's just because they don't have sulfur or anything else added to them. Just cherries. Yay!
Ingredients: oats, almonds, black pepper syrup (maple syrup, whole peppercorns), dried bing cherries, millet, flax seeds, canola oil, salt, fresh-ground black pepper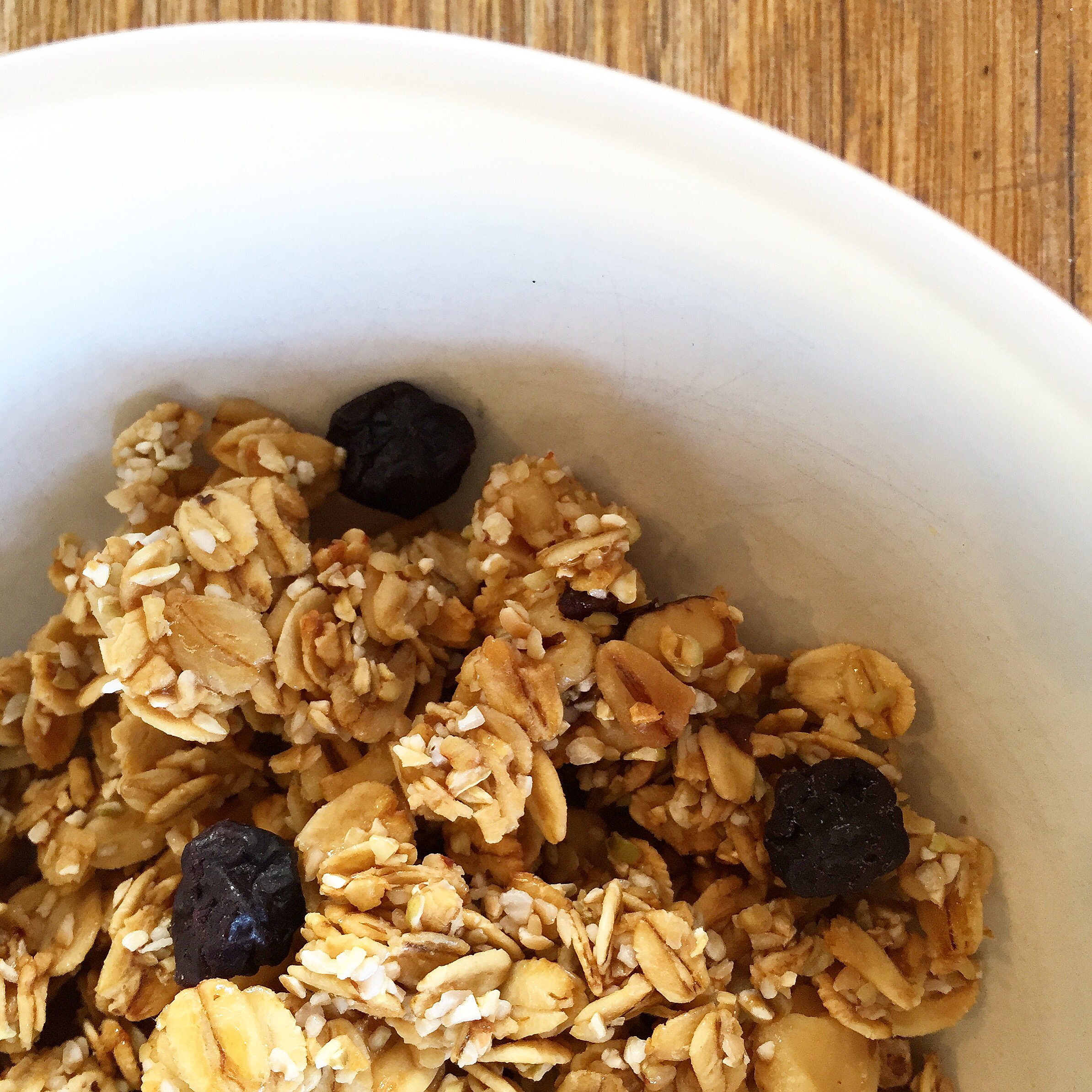 May 2015: Buckwheat Blueberry
Buckwheat—it's not wheat. In fact, it's very gluten free, as it is more closely related to rhubarb and sorrel (how springy!) than wheat. It's also very good for you, a whole grain high in fiber and protein.

In the May blend, buckwheat groats are ground coarse, then toasted before the rest of the granola. The result is a malty, nutty coating to the other components, including oats, walnuts, and blueberries, all held together with maple syrup.
Ingredients: oats, buckwheat, walnuts, blueberries (blueberries, sugar, sunflower oil), maple syrup, canola oil, salt
April 2015: Cashew Coconut
I wish I could say all the ingredients for this blend grew close to where I live, but the fact that they don't is what makes the April granola taste like a warm ray of sunshine.

The lime zest brightens up the rich cashew and coconut notes, but the real star here is coconut oil—the base of this month's blend. It extends the coconuttiness of the granola beyond the flakes of coconut and gives it most toasty, golden color.
Ingredients: oats, cashews, coconut flakes, honey, coconut oil, canola oil, lime zest, salt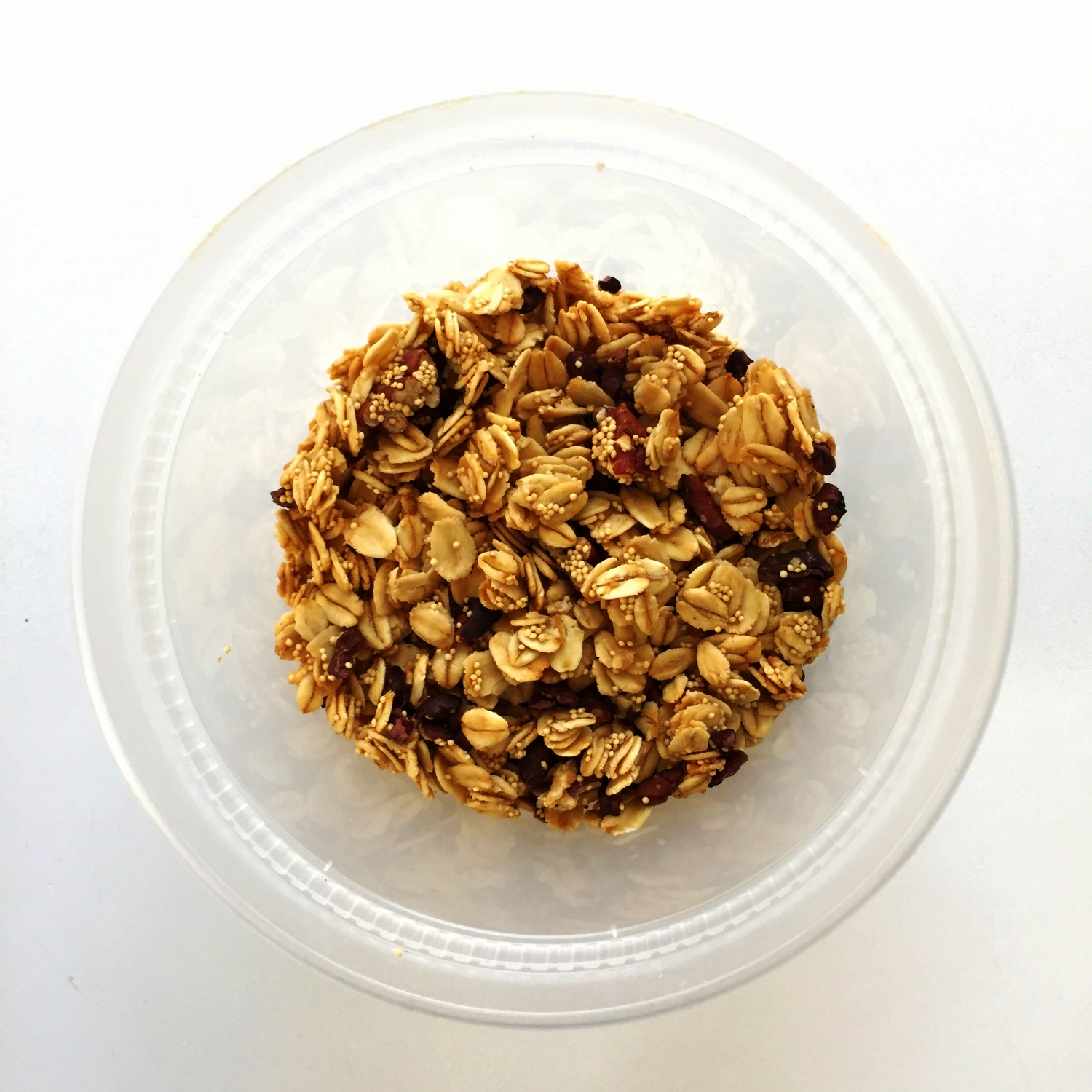 March 2015: Cocoa Amaranth
This blend is all about texture. And it is filled with healthful ingredients disguised as dessert—a good combination for the homestretch of winter.

The base for the March blend is the cocoa nib, which is really chocolate before anything is added to it. Cocoa nibs are bits of the cacao bean that have been roasted and chopped up, and while they smell like chocolate, they taste nuttier, roastier, and less sweet without being bitter. Amaranth lends another texture to the crunchy-soft nibs. A super seed, amaranth is also high in protein. Pecans and honey round out the granola.
Ingredients: oats, pecans, honey, amaranth, cocoa nibs, canola oil, salt
February 2015: Citrus Ginger
I think we all feel better when we pack ourselves full of citrus through the winter months. This blend is a super-charged, super-food combination especially for the midst of winter. It gets its name from the zest of oranges, grapefruits, and Meyer lemons, all from Nicholas Family Farms in Orange Cove, California, plus crystalized ginger. Underneath those bright notes are the nutrition-packed nutty flavors of wheat germ and flax seed.
Ingredients: oats, wheat germ, orange blossom honey, crystalized ginger (ginger, sugar), canola oil, flax seeds, Meyer lemon zest, grapefruit zest, orange zest, salt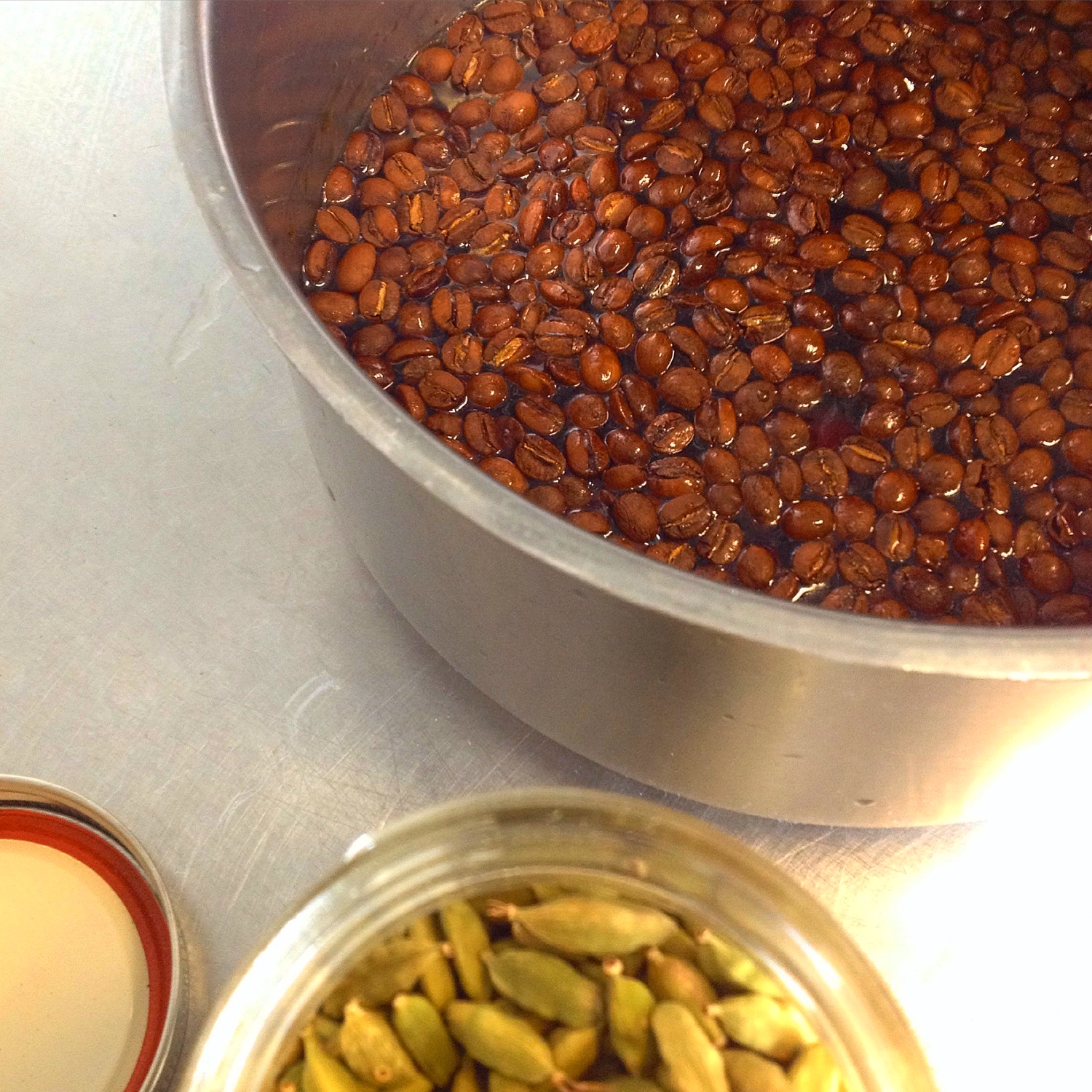 January 2015: Coffee Cardamom
I'll never forget the first truly unique cup of coffee I had. It was from Philz Coffee in San Francisco. It was a Turkish style coffee, brewed with cardamom pods. The January Blend aims to capture the warming and invigorating effect of that coffee, with freshly ground cardamom, coffee two ways, pistachios, and a bit of cane sugar to sweeten your morning.
Ingredients: oats, pistachios, coffee maple syrup (maple syrup, whole coffee beans), millet, canola oil, cane sugar, espresso powder, cardamom, salt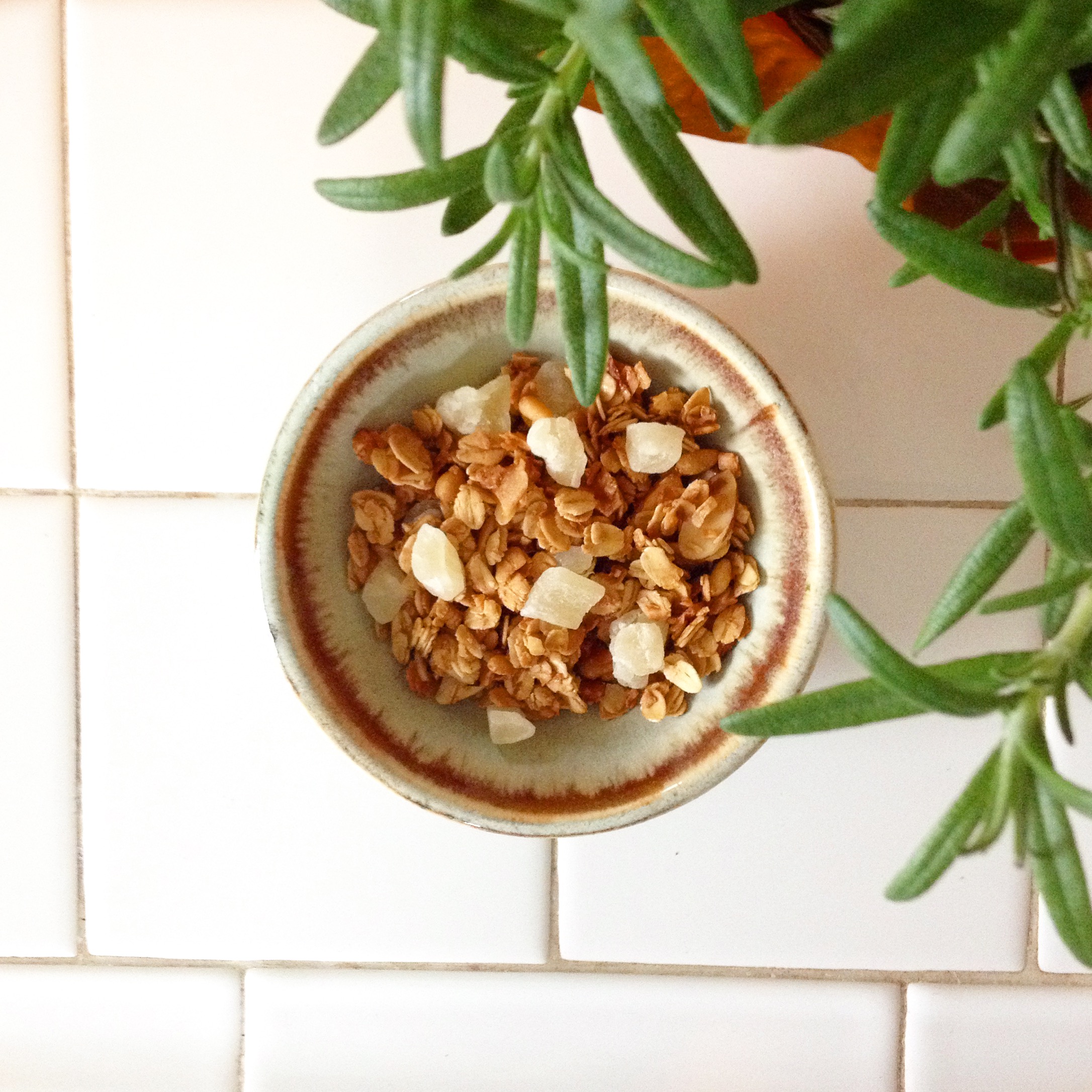 December 2014: Pineapple Pine Nut
Beyond the wordplay of its name, this granola takes inspiration from two holiday sense memories, and neither of them is a taste! The first is the scent of all the evergreens, inside and outside, captured pretty well in pine nuts. The second is the pineapples, real and brass, that adorn front doors this time of year as a symbol of hospitality.

In the Granola of the Month Club version, European pine nuts and unsulphured, lightly sweetened pineapple are backed with maple, brown sugar, coconut, and almonds for a slightly more indulgent but still whole-grain breakfast experience.
Ingredients: oats, dried pineapple (pineapple, cane sugar, citric acid), maple syrup, pine nuts, almonds, coconut, brown sugar, canola oil, salt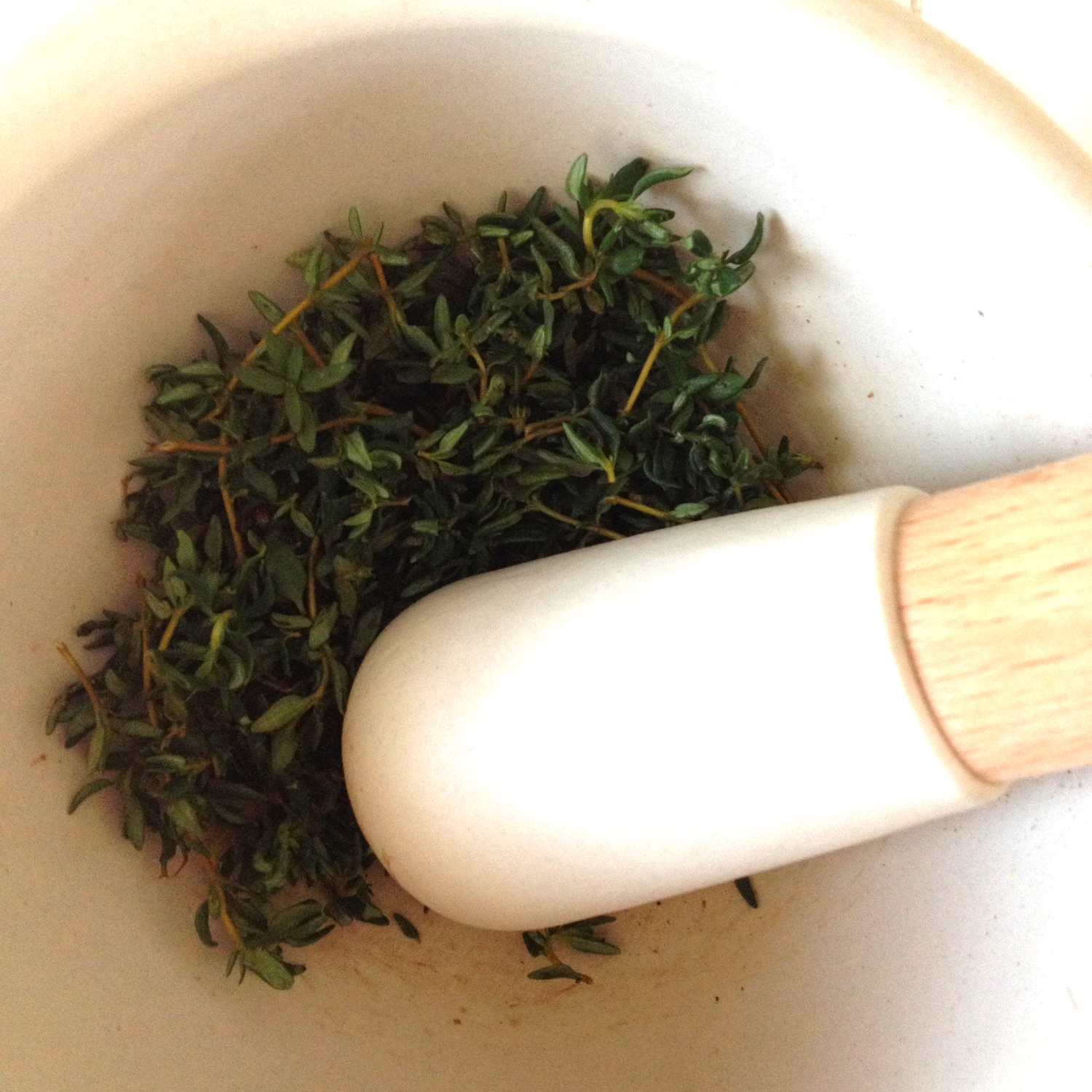 November 2014: Persimmon Thyme
My only experience with persimmons, until I moved to California, was through the Li-Young Lee poem "Persimmons." So I already loved them long before I tasted one at a fall farmers market in California. Now they're forever tied up with remembering, making them my perfect autumn fruit.

In the November blend, dried persimmons meet another important flavor of fall: thyme. You won't see thyme leaves floating around in your cereal—they are bruised and infused into maple syrup, and then the dried persimmons are added.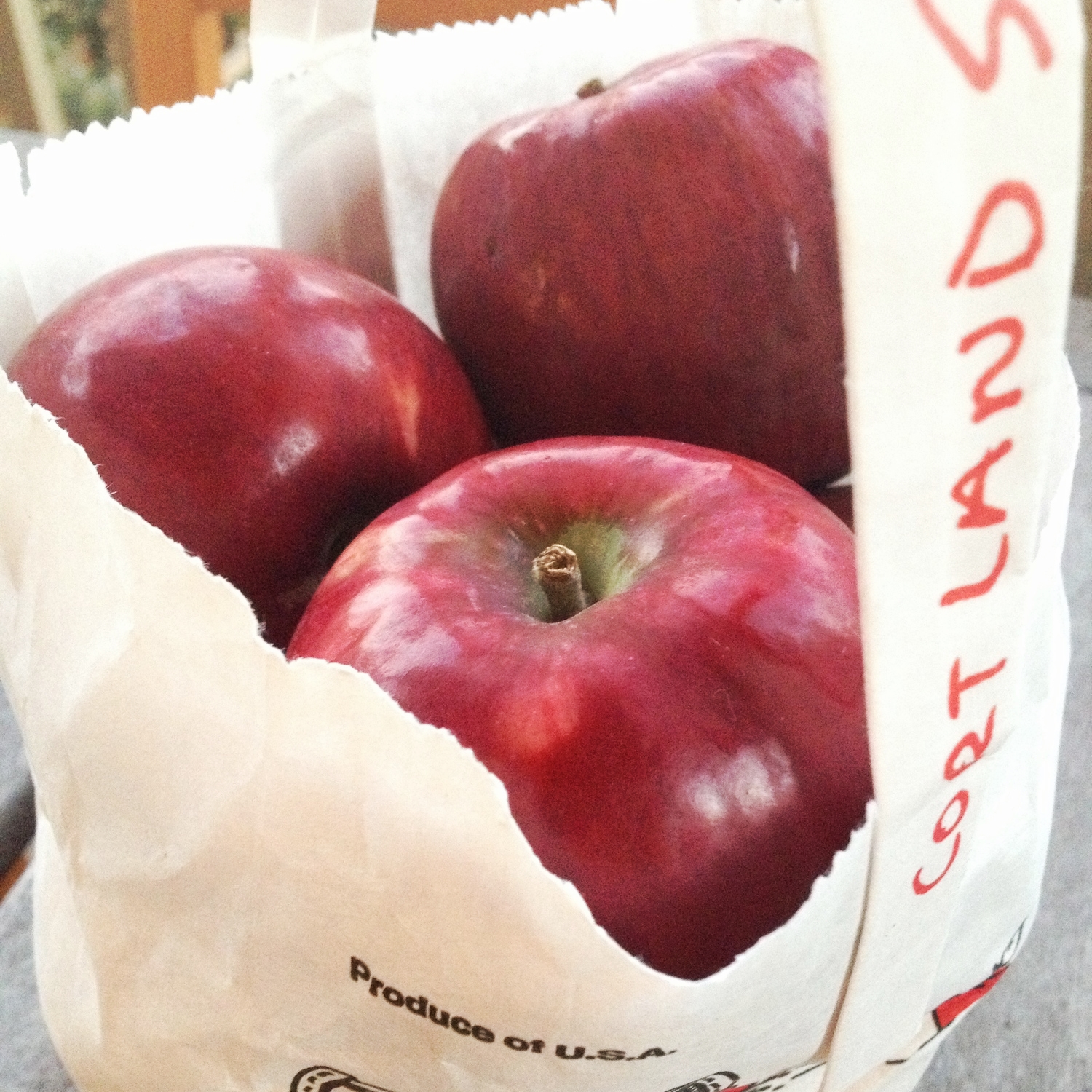 October 2014: Apple Crisp
Oats, nuts, fruit—the crisp is already on its way to being granola in dessert form. And October is the fruit crisp's heyday, when apples are at their best. The October Blend hopes to capture apple crispiness with fresh applesauce made from cortlands just in from Lautenbach's Orchard Country, Ha's Apple Farm's dried fujis, walnuts, oats, and, a true sign of autumn: cinnamon.

September 2014: PB&J
You may think that the peanut butter and jelly sandwich is a thing of your past. I've never been able to let go, so I've developed my understanding of the PB&J over the years along with my palate. Now I make mine on hearty whole grain bread, with peanut butter that is nothing more than ground peanuts, and of course a simple jam with big chunks of fruit in it. The September Blend replicates this formula with a mixture of whole grains as its base, including wheat, rye, and oats, as well as peanuts and peanut butter, and whole raspberries dried in sugar—the closest thing to jam in a dry good.
August 2014: Sweet Tomato
As I planned the last special blend of the summer months, I was nervously reviewing the farmers markets to make sure I had covered as many great summer fruits as possible. And I realized I had forgotten the most summery of all the fruits: the tomato! I understand that the idea of tomato granola might be a little weird, even if you if you regularly have tomatoes on your toast or in your omelets this time of year. But trust me!

My grandmother served tomatoes still warm from the garden with sugar sprinkled on top as a sweet treat. This month's special blend features the tomato as just that: a sweet fruit ready to be eaten any time of day.
In the August blend, there are tomatoes three ways: in tomato syrup made with fresh tomatoes, in roasted tomato oil, and as dehydrated tomatoes for a little extra crunch. Use this granola like you would any other, over yogurt in the morning, or sprinkle it over a salad later in the day. It might also make an interesting topping to roasted or mashed vegetables. Or how about over a hunk of burrata and some basil?
July 2014: Peach Lavender
The Peach Lavender special blend features culinary lavender from Fragrant Isle Lavender Farm and dried peaches from Sunny Cal Farms in Reedley, California (one of my favorite stops at the new Downtown Santa Ana Farmers' Market), as well as pecans and maple syrup.

I first tried peach and lavender together in a pie format, and it tasted as much like the heat of summer as a ripe tomato or a roasted ear of sweet corn. I hope your summer nights are filled with tomatoes and corn, farmhouse ales, and campfires, and I hope your summer mornings are filled with peach lavender granola.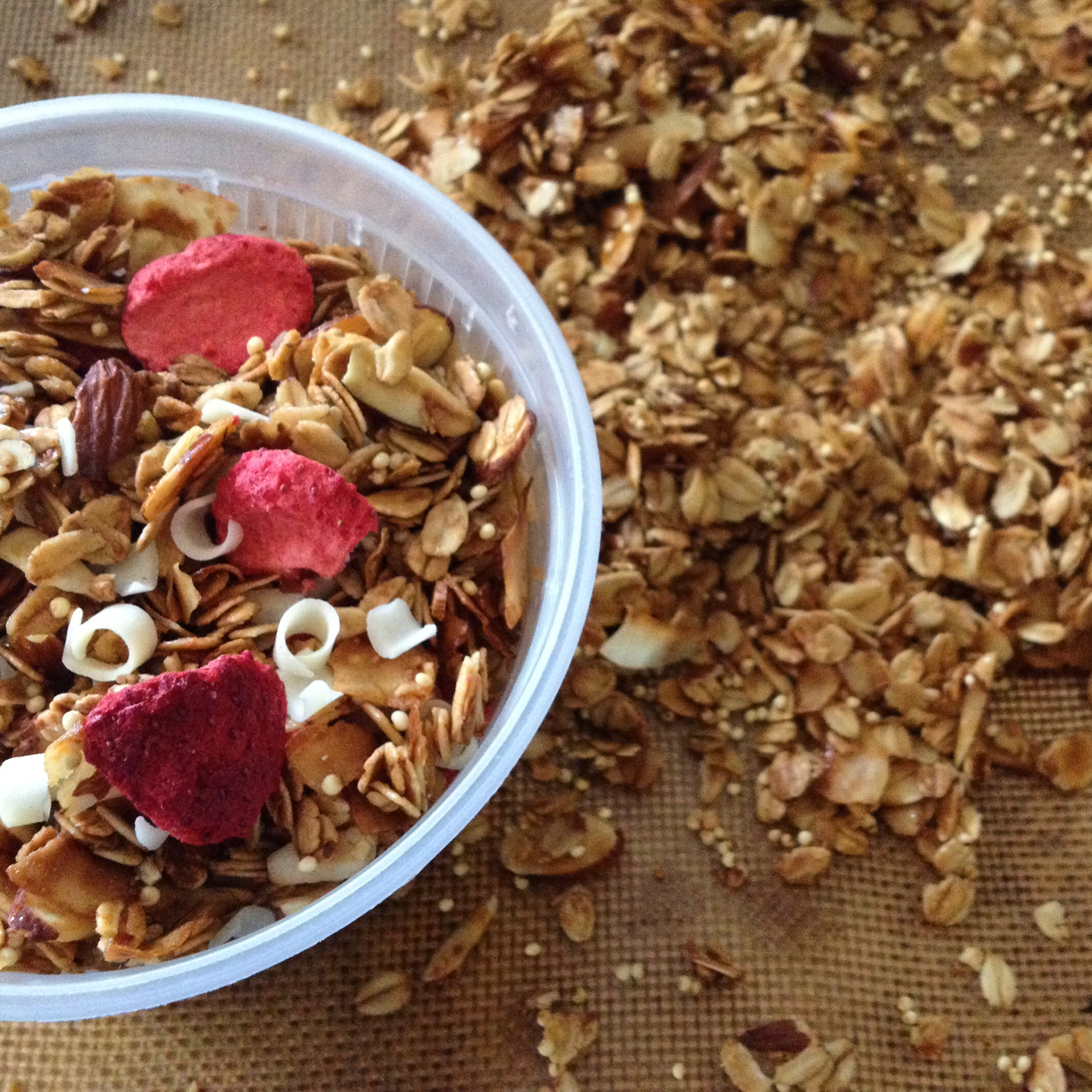 June 2014: Strawberries and Cream
The best way to enjoy the ripest strawberries of the year is in a bowl, sliced, with cream and sugar. I've been eating them like this forever. But what do you do when the season is starting to wind down, or you miss the farmers market one week, or your strawberry plant is trying its hardest but will probably only produce one or two berries this year? You recreate the wonder with this granola blend!

Freeze-dried strawberries play the part of the strawberries, and white chocolate fills in for a splash of heavy whipping cream and a sprinkle of sugar. But the real "cream" flavor in this special blend comes from creamed honey, which is so smooth and rich I originally thought it had cream in it. (It doesn't.)
May 2014: Chamomile Blueberry
I only recently ate chamomile not in tea form for the first time. It was roasted with chicken, and while the application couldn't have been more different than a Celestial Seasonings-inspired bedtime, the scent and flavor were unmistakable. I thought as I ate it, it's now time to put chamomile on everything.

Soothing and a little bitter, roasted chamomile tastes like a field in summer. The May Special Blend is inspired by dreams of a summer just around the corner: chamomile, with dried blueberries. The third featured ingredient of the blend, to add a different kind of crunch and a serious dose of protein, is another one of my favorite little super foods: amaranth. Instead of being roasted like the millet in Daughter's Granola's original blends, the amaranth is popped, like the tiniest popcorn you've ever seen, so it has the texture of itty-bitty rice krispies. But it has so much more going on than rice krispies.
 
April 2014: Desert Date Shake
I learned after a few trips out to Joshua Tree National Park that stopping for a date shake at a roadside juice bar (or farm stand or convenience store) is about as much a part of the Southern California desert experience as oohing at the wind turbines or getting sunburned. On the road that goes out to Palm Springs, Desert Hot Springs, and Joshua Tree, there are signs that say, "Date Capital of the World," so it makes sense that the area is known for its date shakes. What is a date shake? my friends to the east might ask. It's probably the highest-energy, healthiest, ugliest, most sublime thing you can ever imagine eating. There are some out there that use soft-serve ice cream, but I have found that the best date shakes come from little natural food places and are a homely brown blend of dates, bananas, honey, vanilla, and almond and coconut milks.

These are all ingredients that find a happy home together in granola, so the April Special Blend is my attempt to recreate the intense flavor and energy packed into a desert date shake in the granola format. Enjoy it before heading out for a day of rock climbing or strenuous poolside lounging, and you'll feel like you're in the date capital of the world, too.
March 2014: Maple Kumquat
March is supposed to be maple syrup season in Wisconsin and all maple-sap-producing places, with nights below freezing and days above. That's not quite the case this year thanks to the polar vortex, but ideally the sap will start flowing soon. Meanwhile, back in SoCal, I had my first kumquat a couple weeks ago, and I believe I have finally discovered the perfect fruit. Equally sweet and tart, and so delightfully convenient, these bite-sized cuties have me trolling the streets of warm coastal towns literally looking for low-hanging fruit. Dried, kumquats take on a nuttiness I think is just right with maple syrup, hence the March Special Blend.
 
February 2014: Olive Oil Chocolate Chip
The February special blend is slightly eye-roll worthy in that it truly was inspired by a dessert my Valentine made. He was the pastry chef at a restaurant in San Francisco, and to end the eight-course tasting menu, he served a mignardise infamous for how it perfectly punctuated that Michelin-starred meal. It was a sip of an olive oil milkshake with a chocolate chip truffle. I had never heard of a mignardise, so this extra bonus dessert after two separate dessert courses would have won me over regardless of how it tasted. But the bright green flavors of the olive oil, blended into the otherwise familiar components, are really what sealed the deal.

Years later, I am still thinking about the combination, which I tried to recreate in the February special blend with California Arbequina olive oil, dark chocolate chips, and flakes of sea salt. No milkshake included, but that is of course my serving suggestion.
January 2014: Chia Meyer Lemon
One of the most super of all the super foods that lend themselves to granola-making is the chia seed. It is the richest plant-based source for omega-3s and is also high in antioxidants. The January Special Blend, Chia Meyer Lemon, spotlights this little seed, thanks to which one serving of the granola blend will provide you with a third of the fiber you need in a day. Start the New Year with the chia seed, plus Meyer lemon and a pinch of black pepper to warm up those winter mornings.
December 2013: Rum Raisin Pecan
This month's blend takes inspiration from one of the defining flavors of the holiday season for me: my mom's rum raisin pecan pie. My mother, unflappable in the kitchen, has been known to feature four or more different types of pies at holidays. But it would not be Thanksgiving or Christmas without this boozy, gooey treat, which always has a place at her table. Now it exists as a granola, too. Rum-candied pecans and rum-soaked raisins (from Gama Farms in Arvin, California), will start your cold morning off right; the whole grains and flax may counteract actual pie-eating later in the day.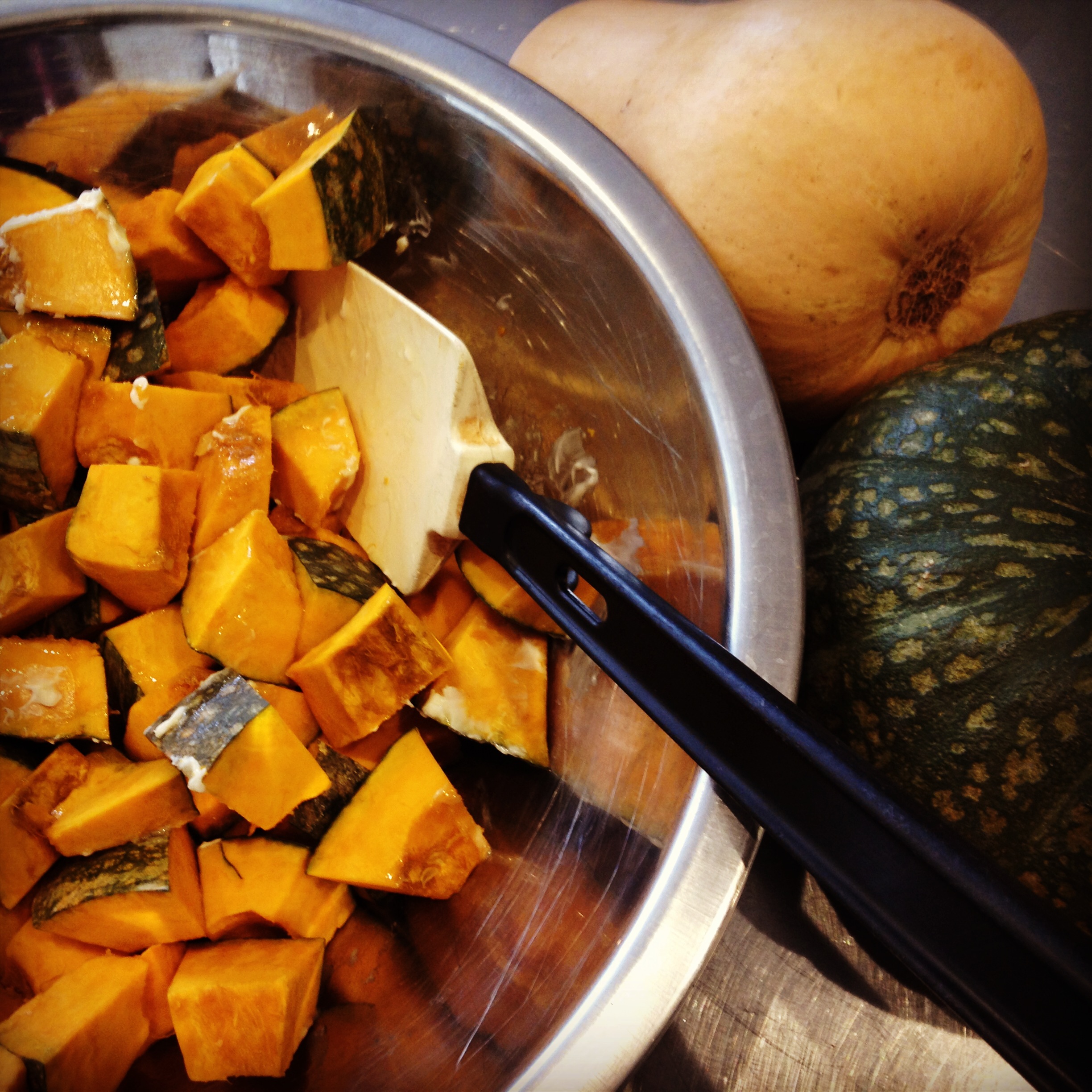 November 2013: Cranberry Winter Squash
I love that pumpkin-flavored everything signifies this time of year, but if you have dabbled in fall vegetable-roasting, you may have found, like I have, that winter squashes can be even better than pumpkin proper. That's the idea behind this vaguely Thanksgiving-inspired special blend, which features some of the most delicious plants native to North America: squashes, cranberries, and maple.